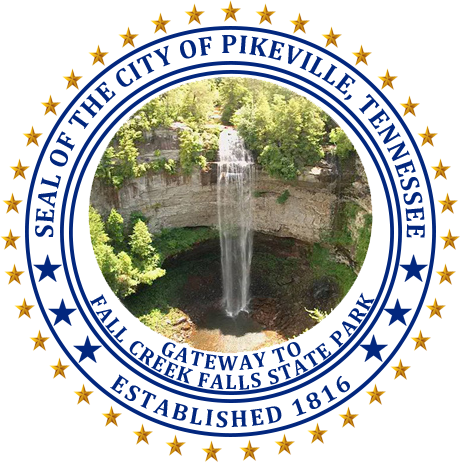 Welcome to Pikeville!!
We are Southern hospitality at it's best and community pride can be felt as soon as you arrive to our cozy and friendly small mountain town!
Pikeville is rich in opportunities to enjoy the natural landscape and historic character of the Sequatchie Valley.  Our historic community features a quaint downtown anchored by the County Courthouse and Veterans Park, and filled with locally owned restaurants, a Saturday Farmer's Market and historic structures that date back to the town' founding in the early 1800's.

We hope that while you visit, you indulge in our small-town charm.  Friendly, quaint, engaging and delightful are just a few ways to describe our little town.

For Your Information

Below are a few areas that might be of interest to you as you visit our little community.  Our home is your home and we hope you stay awhile!

Chamber of Commerce
Churches (within the City Limits)
First Baptist Church ~ 106 Cumberland Avenue   (423) 447-2054  


---
First Southern Baptist Church ~ 2827 Main Street   (423) 447-2849  


---
Kingdom Hall of Jehovah's Witness ~ 395 S. Main Street  (423) 447-7077  

---
Latter-day Saints Church ~ 3447 Main Street  (423) 447-3447  

---
Pikeville Church of Christ ~ 3071 Main Street  (423) 447-6475  

---
Pikeville Church of God ~ 1324 Main Street  (423) 447-2331  


---
Pikeville Methodist Church ~ 7 Methodist Street  (423) 447-2951  


---
Seventh Day Adventist Church ~ 41 Washington Avenue  (423) 447-2948  


---
West End Church of God ~ 67 Old Spencer Road  (423) 447-7070  

---
Wheeler Addition Church of God ~ 111 Manufacturer Road  (423) 447-2075  

Health Department
Bledsoe County Health Department ~ 334 Frazier Street ~ (423) 447-2149
Communicable disease control, immunizations, pregnancy testing, maternal and child health care management (HUGS), family planning, medical health care services for adults (19-64) with no insurance, nutritional counseling, children's special services, environmental control, infant follow-up, sexually transmitted disease testing, WIC, birth and death certificates, Best Start (Breast Feeding Promotion). Aids services: testing and counseling, educational programs, information and referral, homemaker & home health aides.
Library
The Bledsoe County Public Library, a small but first-rate facility, maintains a collection of materials for residents of all ages. Everything from bestselling novels to genealogy information fills the shelves. We are associated with the Tennessee State Library and Archives through the Caney Fork Regional Library.  The Bledsoe County Public Library has changed greatly since it was established July 7, 1952, by the Bledsoe County Quarterly Court. With only about 100 books and a $624 yearly budget, the library opened in the top floor of the board of education office. After several moves throughout the years, a new building was constructed with county, state and federal funds, as well as local donations. The library opened January 18, 1993, at its present-day location of 478 Cumberland Ave., near the county courthouse.
Medical Care
Bledsoe County Primary Care Center ~ 3625 Main Street ~ (423) 447-6203   


---
Erlanger Bledsoe Hospital (24-hr Emergency) ~ 71 Wheelertown Avenue ~ (423) 447-2112   

---
Erlanger Bledsoe Internal & Pediatrics Medical Center ~ 136 Wheelertown Avenue ~ (423) 447-3524   

---
Eye Centers of Tennessee ~ 3302 Main Street ~ (423) 556-0808   


---
Pikeville Family Dentistry ~ 3086 Main Street ~ (423) 447-2421   


---
Pikeville Clinic Primary Care ~ 3062 Main Street ~ (423) 447-2955   


---
Pikeville Family Healthcare ~ 232 Cleveland Avenue ~ (423) 447-3060   

Pharmacy's
School's
The City of Pikeville has one Elementary School, one newly constructed Middle School, and one modern High School within the city limits.  A State Vocational Technical Training Center offers credit courses, adult education and training.
Currently, the Tennessee College of Applied Technology is set to build a satellite campus with the City of Pikeville.
Pikeville Elementary School ~ 41068 TN-Hwy 30 East  ~ Phone: (423) 447-2434, Fax: (423) 447-6230   


---
Bledsoe County Middle School ~ 857 Main Street ~ Phone: (423) 447-3212, Fax: (423) 447-3212   


---
Bledsoe County High School ~ 877 Main Street ~ Phone: (423) 447-6851, Fax: (423) 447-6286   


---
Bledsoe County Career Technical Center ~ 873 Main Street ~ Phone: (423) 447-6370. Fax" (423) 447-6372