Pikeville, Tennessee
Sequatchie Valley in the Southern Cumberland Plateau
Pikeville, Tennessee, with its coordinates of 35°36′27″N 85°11′29″W (35.607470, -85.191340), is nestled in the heart of the Sequatchie Valley. This picturesque city is located in the northern half of the valley, which is known for its breathtaking beauty and fertile lands. 
The Sequatchie Valley itself is a remarkable geological formation that has carved a deep and narrow path through the southern Cumberland Plateau. As one enters Pikeville, they are greeted by the grandeur of Walden Ridge and Little Mountain, two towering escarpments that mark the western and eastern boundaries of the valley. These impressive walls of the plateau not only add to the charm of Pikeville but also create a stunning backdrop for the city.
Adding to its allure, the Sequatchie River flows through the eastern section of Pikeville, providing the city with a natural waterway that enhances its charm and appeal. As the river meanders through the landscapes, it offers tranquility and a pleasant ambiance that attracts both locals and visitors alike.
Pikeville, with its idyllic location and natural wonders, serves as a gateway to outdoor recreation and exploration. The surrounding valley offers a haven for hikers, nature enthusiasts, and adventurists seeking breathtaking vistas, lush forests, and diverse wildlife. From camping and fishing to hiking and birdwatching, the possibilities for outdoor activities in Pikeville are endless.
The city itself, while small, is rich in history and culture. It boasts a warm and welcoming community that celebrates its heritage, traditions, and values. Pikeville offers a variety of amenities and services to its residents while preserving its small-town charm. With a range of locally-owned businesses, restaurants, and shops, Pikeville prides itself on providing a unique and authentic experience for all who visit.
Pikeville, Tennessee, is a hidden gem nestled in the northern half of the Sequatchie Valley. With its stunning landscapes, the presence of Walden Ridge and Little Mountain, and the calming flow of the Sequatchie River, Pikeville offers a tranquil escape from the bustling world. Whether seeking outdoor adventures or looking to immerse oneself in a rich cultural experience, Pikeville is a destination that will captivate and inspire all who visit.
The primary highway that runs through Pikeville, Tennessee is U.S. Route 127, providing vital connections between the city and surrounding areas. To the north, US-127 connects Pikeville to Crossville, located atop the scenic plateau. Heading south, the highway links Pikeville to Dunlap. 
Within Pikeville itself, US-127 splits into two routes. The main route follows Main Street, passing through the city's bustling business district and courthouse square. This section of the highway serves as a lifeline for local commerce and urban activity. In contrast, a bypass route was constructed, primarily to accommodate the growing commercial developments in the western part of the city. This allows for smoother traffic flow and easier access to the newer commercial areas.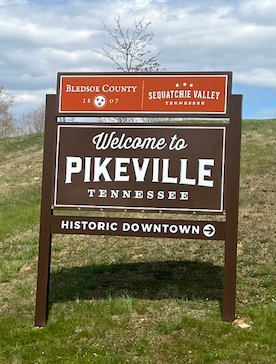 Additionally, State Route 30 runs congruent with US-127 through most of Pikeville. This state route connects Pikeville with Spencer and the Fall Creek Falls State Park area located west of the city. Furthermore, it provides a route towards Dayton, located east of Pikeville, traversing across the plateau. This road serves as a gateway for residents and visitors alike to explore natural beauty and engage in recreational activities.
With the presence of U.S. Route 127 and State Route 30, Pikeville benefits from its strategic location as a hub for transportation and connectivity. These highways play a crucial role in facilitating travel, commerce, and tourism, ensuring that Pikeville remains an integral part of the region's transportation network.
According to the United States Census Bureau, the city has a total area of 2.4 square miles (6.2 km2), all land.
From Chattanooga, TN – Take US-27 North to TN-111.  Veer left onto TN-111 North, towards Dunlap.  Take the exit US-127 (Rankin Ave. in Dunlap). Turn right onto US-127 North towards Pikeville.
From Knoxville, TN – Take I-40 West to exit US-127 South (Crossville/Hwy 127). Continue South on US-127 towards Pikeville.
From Nashville, TN – Take I-40 East to exit 288 to TN-111 South (Cookeville/Hwy 111). Turn left onto TN-285-East.  Continue East on TN-285 and TN-30 East towards Pikeville.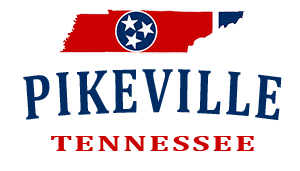 City of Pikeville
25 Municipal Drive
Pikeville, Tennessee  37367 423-447-2919