Mural-in-Progress to Depict the Small-Town Charm of Pikeville
Conceptual Design
A 40-foot wall in downtown Pikeville, beside the Main Street Stage, is in the process of a colorful makeover.  The mural has built a level of intrigue from many passerby, watching the artwork slowly grow in size each day over the past week or so.
It's a celebration of the small-town charm of Pikeville, Tennessee.  The original artwork was hand-sketched by Nancy May.  Nancy designed the sketch to work compositionally with the environment, considered the community demographics, and the multiplicity of aesthetics and perspectives of the community.
The Design Team
A Design Team was formed to assist with the getting the design onto the wall.  The team had to keep in mind how the mural will be viewed…how it will look from different perspectives, along with how it will be seen from a moving car. The design team is extremely important as there are multiple levels of artists, and all can be incorporated with painting the design.  The members of the design team include: Ridinna Bernard, Kimmy Brown, Ruby Knight, Jeania Lansing, Nancy May, Nancy Parks, Sue Reinehr, Shayla Saunders and Linda Waszak.
Sketching the Mural
After the mural was sketched and approved by Mayor Cagle, the area was primed to be painted.  The wall was then chalked out to translate the image design to the mural site.  At this point, the Projector Crew (Jeannie Decker and Justin Thomas) worked with the design team to project the image onto the wall.  This took some time as the image blurred as it was projected larger.  Once the image was the correct size and the placement was acceptable, the design team started sketching out the mural with drawing pencils.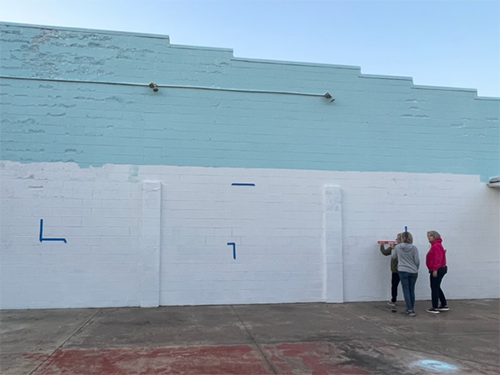 Watch the Progress
Those interested in following the progress of the Pikeville Mural, it is located downtown Pikeville, beside the Main Street Stage.  You can also see the progress here on this page with the photos below.
So far, the feedback has been overwhelmingly positive, with dozens of people stopping by to inquire about the mural or admire it every day that the design team is out painting.
"This mural will be a legacy piece for the small town of Pikeville.  Community art is great, and it's beautiful seeing the positive feedback and intrigue from people of all generations and walks of life." (my personal feedback as Webmaster and Community Member).

  City of Pikeville
25 Municipal Drive
Pikeville, Tennessee  37367 423-447-2919